WHY
STATIC STRETCHING

ALONE ISN'T THE ANSWER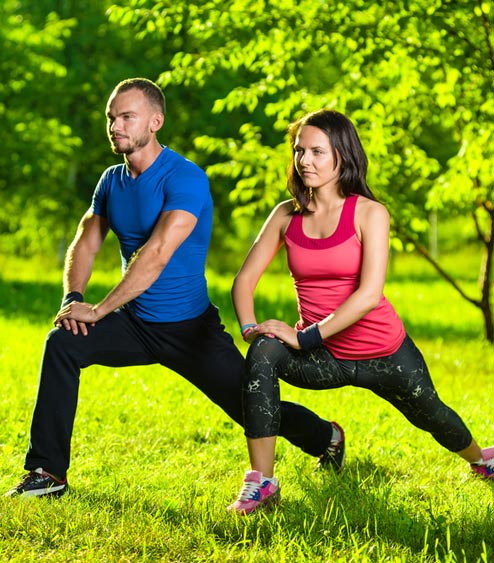 Knowing you have tight hip flexors is one thing.
Knowing how to fix your hip flexors is another challenge altogether.
If you trust so-called experts on Youtube and online, they'll have you believe it's simply a case of holding a few static stretches for a period of time to try and lengthen the muscle.
Or rolling around with a tennis ball stuck to your hip (as if that will really make any difference).
It takes more than a tennis ball and foam roller to unlock your hip flexors…and doing it wrong could cause damage.
The reason few people manage to fix their hip flexors is simple.
It's really a hard area to reach.
Your psoas is buried deep inside your core, making it tough to access. It's a hard muscle to find, let alone train.
So it's little wonder why trying to loosen it requires more than a simple static hip flexor stretch.
If you've found you're spending (or wasting) time stretching this way only to find it's having minimal effect, that is why.
That's because you need to attack the muscle from a variety of angles using a variety of exercise techniques and modalities in order to "unpack" the muscle in the right way.
The truth is, you can learn to release your tight hip flexors on your own.
You can think of your psoas as a combination safe lock, there are certain exercise combinations that will unlock it. You just need to know the code. [38-45]
And, there are a number of specific movements beyond simple static stretching you can use to unlock and loosen your hips, legs and back.
PNF STRETCHING:
PNF is an acronym for proprioceptive neuromuscular facilitation. It is a technique where you are activating a specific muscle in order to relax the muscles around a joint so you can decrease the stiffness around a joint.
DYNAMIC STRETCHING:
This is where you are activating the muscle around a joint and moving that joint through its full range of motion in a progressive manner. This leads to an increased range of motion around the joint, warming up of the muscle around the joint and improved circulation around the joint. Think of high knees or butt kicks.
3-DIMENSIONAL CORE STABILITY EXERCISES:
With these exercises we are targeting the muscle in all planes of movement so the core and abdominal muscles have good activation, endurance and strength in all planes of movement which leads to a decrease in unnecessary damaging stress on joints
MOBILITY EXERCISES:
In these exercises, we are targeting the joint and doing movements and exercises that help the joint function optimally. This allows a joint to move more freely.
FASCIA STRETCHING:
In this unique technique, we are targeting the tissue that muscles are surrounded in and working on loosening and lengthening the fascia. Few people understand the negative effect this tissue can have on your body.
MUSCLE ACTIVATION MOVEMENTS:
Due to all of our sitting and daily technology use, many of our muscles are not working properly. With this technique, we're targeting those muscles that are off and activating them in order to help the body move more efficiently.
Now that you know the specific techniques you need to unlock your hip flexors, the next question is how to combine these in the most effective way. Please don't be overwhelmed by the "Shop Talk" above because…
ClickBank is the retailer of products on this site. CLICKBANK® is a registered trademark of Click Sales Inc., a Delaware corporation located at 1444 S. Entertainment Ave., Suite 410 Boise, ID 83709, USA and used by permission. ClickBank's role as retailer does not constitute an endorsement, approval or review of these products or any claim, statement or opinion used in promotion of these products.