Have the Best Thanksgiving Ever
With These Delicious (& Healthy)
Holiday Recipes!
Our FREE Thanksgiving Cookbook is Filled With 23 Recipes
That Are Easy to Make & Taste Great!
From tried and true classics such as turkey, mashed potatoes and cranberry sauce, to new additions like gluten-free sausage stuffing and sweet potato muffins …
This new cookbook has all the recipes you need to impress – and satisfy – your loved ones this Thanksgiving.
There are 23 recipes in all – including recipes for Air Fried Turkey, Lemon Butter Roasted Turkey, and Slow Cooker Pulled Turkey.
There are also recipes for Slow Cooker Roast Beef, Garlic Roasted Chicken and many delicious sides, such as Sweet Corn Bread, Curried Roasted Green Beans, Cauliflower Au Gratin and many more.
And that's not all! In addition to all that we've mentioned, there are also recipes for drinks, like Iced Pumpkin Spice Latte, and desserts, like Crustless Pumpkin Pie.
In other words, this Thanksgiving cookbook, "The Ultimate Holiday Feast", is filled with all the recipes you need to have a memorable holiday dinner. You could even use these recipes on other holidays and special occasions throughout the year!
Another great thing about this cookbook is that all the recipes – besides being very, very tasty – are also healthy for you.
The recipes feature foods that help reduce inflammation in the body. Inflammation is very bad for your health. It can cause the signs associated with aging – like wrinkles and dry, sagging skin – and prolonged inflammation can even lead to serious diseases like cancer, diabetes and more.
So, don't miss out! Simply click on the button below to get our new cookbook, "The Ultimate Holiday Feast", at no charge.
Just tell us where to send it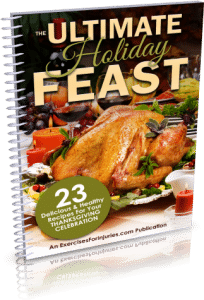 We value your privacy and would never spam you