Do Not Hit Your "Back Button" As It May Cause Errors With Your Order
Once You're Free From Pain Follow…
Indestructible Shoulders

, To Totally Bullet Proof Your Shoulders Making Them Your Strongest Body Part!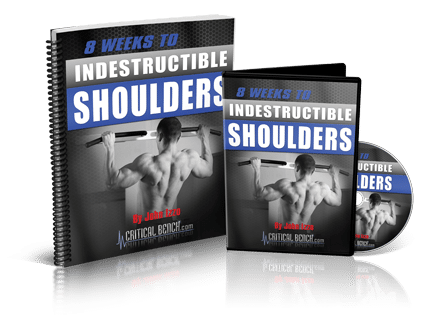 Thank you so much for you order of "Fix My Shoulder Pain". You already have everything you need in order to be successful and you're well on your way to getting back to pain free workouts.
Many of our most successful clients have also followed this 8-Week plugin in shoulder program after they went through the Fix My Shoulder Pain system. It's called Indestructible Shoulders and  because you have taken action today, you are being given a one-time opportunity to upgrade your order all while saving 50% OFF the regular price!
Indesctructible Shoulders is an 8-week program you can follow after you finish the Fix My Shoulder Pain system.  It will literally bulletproof you from getting injured again and take your shoulders from a weak point to a strong point.  You follow the exercises from this program on your cardio day, leg days, or even between major exercises.
It will only take you an extra 10-15 minutes per week.
This is a perfect follow up plugin to add to your workouts after finishing FMSP.
You'll get access to the PDF which includes all the exercise descriptions and video demonstrations.
We've teamed up with strength & conditioning coach John Izzo who created this program for himself and his clients out of necessity in order to strengthen his shoulders after his rotator cuff surgery.
Click The Big Orange Button Below To Get Indestructible Shoulders for a Full 50% OFF…
Click The Big Orange Button Below To Get Indestructible Shoulders for a Full 50% OFF…
NOTE: "Indestructible Shoulders" published by Critical Bench is a pdf file. No physical products will be shipped. After you order, you'll get INSTANT ACCESS to download all product components onto your computer. The format for all manuals, workbooks, checklists, etc, is adobe acrobat PDF which can be viewed on Mac or PC. Individual results may vary and just because you buy this program does not mean that it will work as good for you as it did for others. Like all things in life you'll get out of it what you put into it, so if you just buy this and never read it you're not going to develop any healthy habits.