Do Not Hit Your "Back Button"
As It May Cause Errors With Your Order
Almost there - one last step to finalize your order...
Reduce Joint Pain Up to
3X FASTER
With these 101 Superfoods
If you've been waking up with a sore back… sore knees… or sore hips after a workout…
If your recovery time after exercising isn't what it used to be…
If life has kept you just too busy and you'd like to reduce your joint pain so you can serve your family and your job better…
Then these pain-reducing Superfoods are for you.
Most people don't realize that the vast majority of foods in the standard Western diet today are ones that cause inflammation.
That means that when your joints stiffen up in the morning, or your back tightens up the day after a workout, it could be due to the foods you eat.
And if you switch from eating foods that cause inflammation to foods filled with healthy vitamins, minerals, and antioxidants, your joint pain can go away up to 3X faster!
That's why we believe it's so important to get 101 Superfoods That Stop Your Joint Pain and Inflammation into your hands.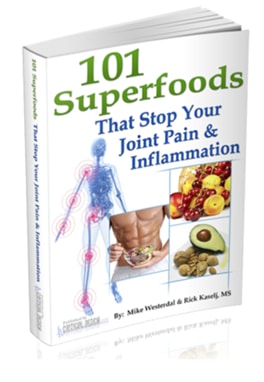 Inside, you'll find Superfoods PACKED with natural vitamins, antioxidants, and other nutrients, including:
5 Berries you've most likely never heard of - from near the Gobi Desert, the jungles of Bangladesh, and even Trinidad - that make your joints feel YEARS younger. We'll show you how to get them easily (pg. 29)
7 Uncommon greens that are bursting with inflammation-fighting antioxidants - including a type of nutritious grass used by ancient Egyptians to strengthen their joints (hint… it's NOT wheat grass) (pg. 32)
15 Secret spices and herbs from China, the Mediterranean, and even the Maluku Islands in Indonesia that can naturally soothe pain like an aspirin! (pg. 34)
11 of the BEST sources of meat for healing joints and reducing pain: including 5 types of fish that AREN'T salmon or tuna (pg. 43)
And much, much more!
Not only that - we'll also throw in 68 Pain Fighting Superfood Recipes so you can eat these Superfoods in easy, DELICIOUS meals, even if you don't have a lot of cooking experience!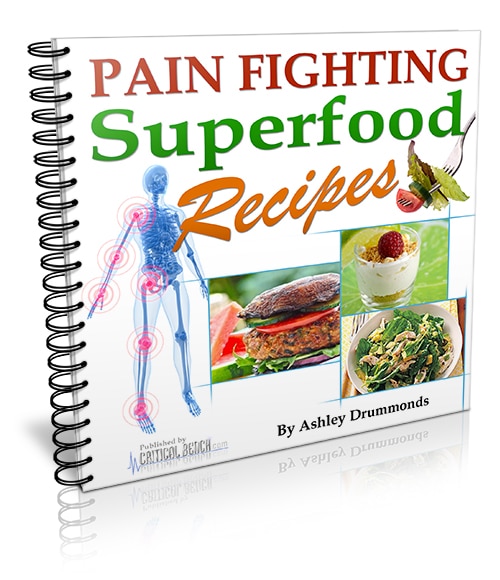 Inside, you'll find 68 mouthwatering recipes designed to make your taste buds dance AND to turn your body into the fittest, healthiest, pain-free machine possible.
Including:
15 savory, drool-inducing breakfast recipes, including how to make an Almond Butter Pancake that's to die for (pg. 10)
16 fat-shredding lunches, including Turkey Butternut Soup that will have your friends and family RAVING (pg. 26)
16 healthy, nutritious dinner meals that will make your pain melt away, including Lemony Macadamia Nut Encrusted Cod you'll crave day in and day out (pg. 43)
And 21 healthy dessert / smoothie recipes?! YES! Who knew foods this delicious could be healthy? Apple Pie Shakes, Homemade Almond Milk, Key Lime Stuffed Strawberries… YUM! (pg. 60)
Unclear about the directions or unsure about how to use a crock pot?
No worries!
Our Pain Fighting Superfood Cooking Video Series will help even the most inexperienced beginner cut their kitchen time by up to half!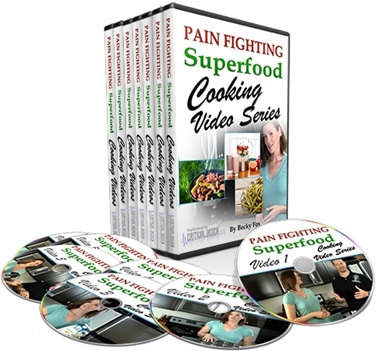 This 7 video series will make cooking fun, easy, and most of all QUICK.
Look, I know how busy you are. No one has time to spend all day chopping and dicing.
These quick videos will help you save time, energy, and stress by showing you how to go from stove to full in under 1 hour.
Are you ready to get started?
Then put it all together with our Pain Fighting 30 Day Meal Plans!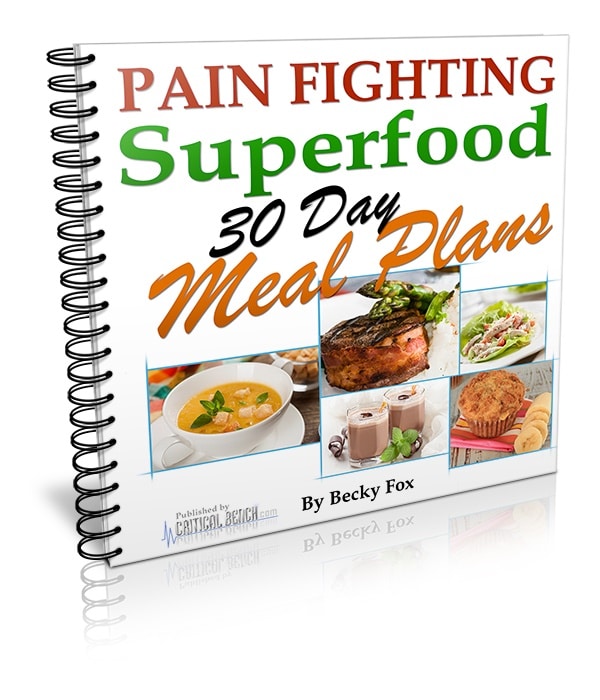 It's our #1 goal to keep things delicious, new, and interesting for you.
With this meal plan, 30 days will fly by. Before you know it, you'll look down and see a brand new body.
You'll move with less pain. A smile will light up your face. And best of all…
You'll also experience rapid fat loss
Just imagine your friends' eyes popping when they see you in your new swimsuit.
These foods not only reduce pain and stop inflammation… they're also incredibly healthy for you.
And that means you'll shed body fat… FAST.
The result?
You could get your best body ever, just like the thousands before you who've followed my health advice.
Just imagine…
You'll get this entire pain-reducing fat-melting system
for just $9
Yes, I know.
It's an incredible deal.
And the reason I'm practically giving it away is because I care about your health.
It's my mission to reduce pain and to help people achieve the best body of their lives.
And I want to help as many people as possible.
So please accept this gift from me to you… on my word, I promise you: it truly does work.
And to sweeten the deal,
I've even included a pain-reducing
MYSTERY BONUS
I can't tell you too much, or it would ruin the surprise.
But know this:
It's for you if your pain truly is BAD. Inside, there are forbidden techniques you most likely would never have thought of on your own.
Don't worry… they're completely, 100% safe. Even Olympic athletes use them for fast recovery.
Feel free to give any of them a try.
Other than that, I'll let you find out on your own.
Click the button below to
reduce your pain up to 3X FASTER today
Because this is such a steal, it's likely you'll only see this offer once.
So don't waste any time.
Click the button below to add:
101 Superfoods That Stop Your Joint Pain and Inflammation
68 Pain Fighting Superfood Recipes
Pain Fighting Superfood Cooking Video Series
Pain Fighting Superfood 30 Day Meal Plans
AND your forbidden pain-fighting MYSTERY BONUS...
To your order
ALL for just $9!
Again, remember: you'll most likely see this amazing offer once, and only once.
So don't miss this opportunity.
Click the button below to add this amazing system to your order.
Thanks for your time, and I'll see you inside!
No thanks, I will pass on this HUGE DISCOUNT for now… and I realize I will NEVER have this opportunity again.
NOTE: "The Ultimate Superfoods Bundle" published by Critical Bench is a pdf file and digital video package. No physical products will be shipped. After you order, you'll get INSTANT ACCESS to download all product components onto your computer. The format for all manuals, workbooks, checklists, etc, is adobe acrobat PDF which can be viewed on Mac or PC. Individual results may vary and just because you buy this program does not mean that it will work as well for you as it did for others. Like all things in life you'll get out of it what you put into it, so if you just buy this and never read it you're not going to develop any healthy habits.